Let's Look at What Goes Into Designing a Branded and Effective Website
What is a "Website Theme?"
Basically, it is a combination of the LOOK and the unique STYLE and VIBE that it gives
HOW IT LOOKS
The "Look" of your website refers to the structure or layout of a particular page. An effective look allows for intuitive use, natural flow, and strategic placement of actionable content such as photos and Call-to-Action links and buttons.
Using an analogy comparing your website to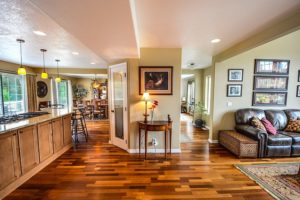 your home, the "look" of your website would be similar to the floorplan of your home. It could have a wide-open floor plan where sightlines can easily flow from the kitchen, through the dining room, into the living room, and right on out through the picture window overlooking the sunset.
Conversely, your home's floorplan could be very compartmentalized and requires intentional, physical movement from the kitchen through a couple of oppositely placed doors in order to enjoy the gaze of that same beautiful sunset.
THE STYLE AND VIBE
The style and vibe refer to the aesthetic design and emotional response that your website exudes. Things like your color scheme, font styles, font sizes, animations, use of images and video, how much or how little "white space" is used — all of these things are intentionally identified, selected, and implemented to display a specific "style and vibe" that is congruent with your brand and the way your visitor perceives your product, service, or organization.
Back to the analogy using your home, the style and vibe you have, whether in a particular room or throughout the entire house, will be determined by what kind of furniture you have, the colors you use, and the miscellaneous decorations that adorn the rooms.
Here are some comparative examples of styles (and vibes):
FURNITURE:  Knotty Pine (Cabin/Rustic) vs. A MicroFiber sectional (Cozy)
COLOR SCHEME:  Dark, rich earth tones (stoic/warm) vs. light pastels (fun/whimsical)
DECORATIONS:  Dozens of pictures and trinkets (cluttered) vs. a few wall hangings and a couple of conversation pieces (minimalistic)
A Few of Our Great First Impressions
Let's Start Something New
Ask your questions or request a proposal below